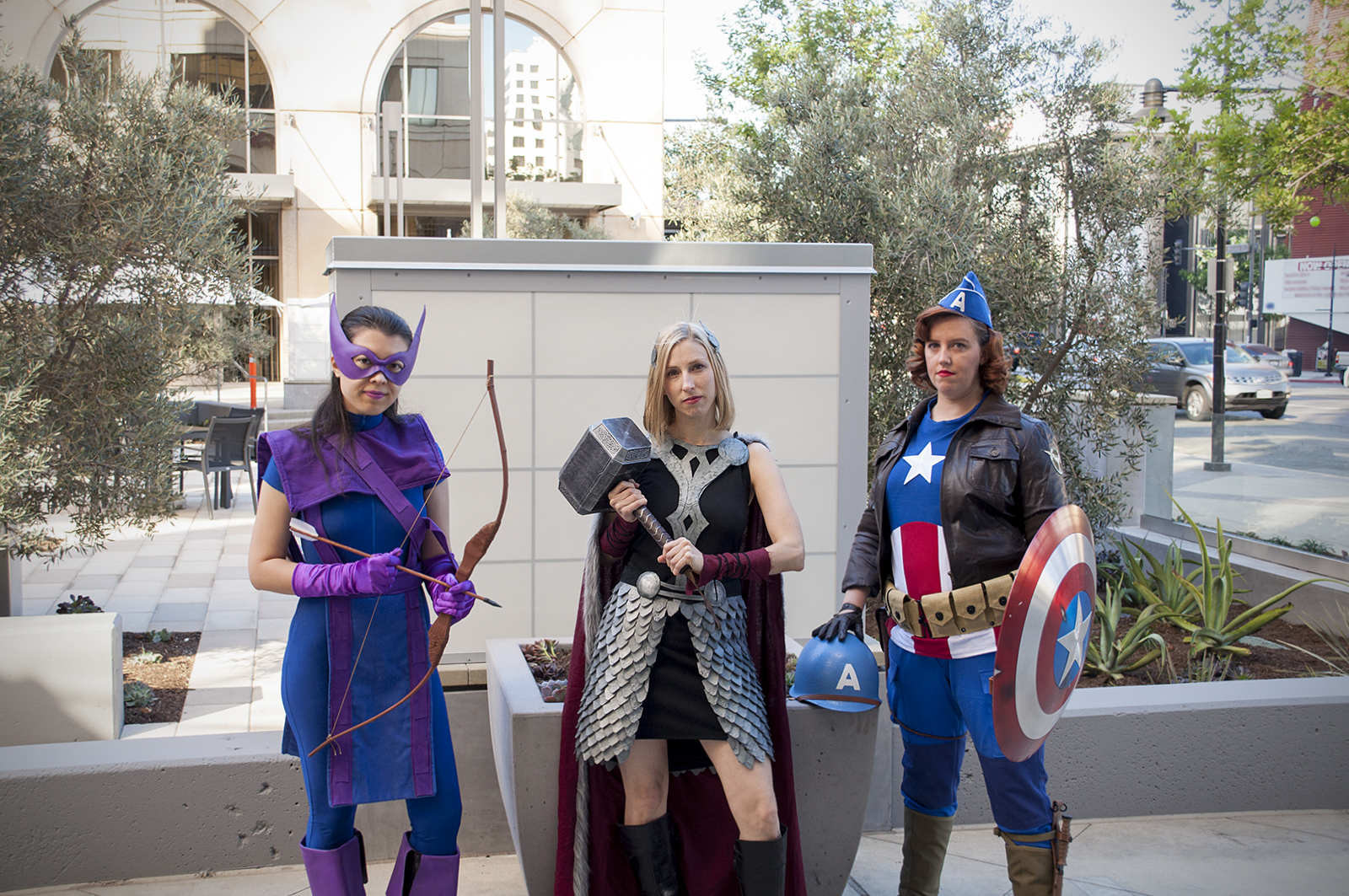 Viola, Comastar, and I made it a tradition to do group costumes for our very elaborate Neopets HQ Halloween contests every year. It was just so much fun working together, both to come up with something we all liked and then to commiserate during construction (especially when we went overboard). In 2013, we chose Marvel characters with our own spin, with Viola as Thor, Comastar as Hawkeye, and me as Cap.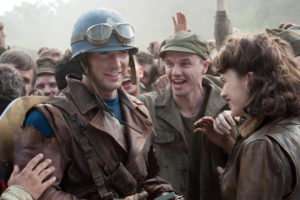 I started with The First Avenger costumes as inspiration. His main hero uniform is obviously pretty great, but I was also particularly drawn to his impromptu "paratrooper" uniform during the Bucky rescue. (I'm a sucker for the 40′s and WWII paraphernalia.) As much as I love that version, though, I didn't want to lose a lot of what makes Cap's costume so recognisable. You barely see the blue or the chest star, and there's no red and white. And he also isn't using his most iconic — and my favourite — version of his shield. I mean, let's be honest; this whole costume was just an excuse to make a very high-quality version of the awesome round shield to run around with like a little kid and then hang it up in my living room afterwards. *nod*
So I put together mix of my favourite bits, pulling pieces from the movie version (real WWII field gear!), adding my own WWII touches (adorable garrison cap!), and also took cues from the iconic comic costumes (moar blue!). This was a change for me. I'm usually a stickler for costume accuracy, finding the most fun in taking things that are already designed and seeing how close I can get to them in real life. So with this one, I was basically in panic mode the whole time. I like how it turned out, though.
Quick Facts
Character: Captain America
Series: Marvel (Comics/MCU)
Year: 2013
Hours: Not sure! I started working it (starting with the concepts) about two months before I needed to wear it.
Event(s): Work Halloween Contest; Mickey's Halloween Party at Disneyland
Notes
The shirt, pants, and garrison cap were made from scratch by me.
The jacket was purchased and then modified by me, with patches added and "nose art" designed and painted on the back.
The accessories (belt, gaiters, knife & sheath, boots, gloves) were all sourced and purchased. All are WWII authentic or replica, except the gloves. Also, the knife is rubber.
Various patches sourced from around the Internet. Thanks, the Internet.
Found some reference for Steve's tags from The First Avenger and had them replicated. Except I changed the name to Eve G. Rogers cuz boobs.
I painted a real helmet, which is very likely authentic to WWII. (I say likely because later in the war, the helmets changed a bit and then that same design was used in Vietnam, so there's a tiny chance it could actually be from that era instead. All other clues point to WWII but can't say for absolute sure.)
I may have researched WWII uniforms and equipment way too much for this project.
The shield was commissioned in parts. The main shield blank was ordered to specifications from an aluminum milling company. The star and handles were purchased from separate replica makers on The RPF. I sent all the parts to yet another artist on The RPF, who put it all together, painted it, and sent it back to me in its beautiful completed form.
The shield weighs 11 pounds.
30-year-olds turn into tiny children when you let them hold your Cap shield.
I bought a blond wig but it made me look like an old lady after I styled it so I decided to use my curling iron on my own hair for the very first time for the 40's curls. Thanks, YouTube tutorials!
Completed Costume Gallery
Progress Shots